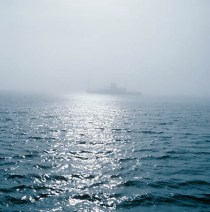 Stranded Ship..........
It was a quiet summer morning when the telephone rang at Magnetics & Controls, Inc. The voice on the other end sounded quite tired and shaken. It was a support technician trying to get a custom OEM transformer that was no longer in production.
There was a cargo ship stranded 200 miles off the Texas shoreline in the Gulf of Mexico. An onboard panelboard fire burned out a bank of three critical transformers and emergency replacements were required. It was carrying 5.5 Million Dollars in perishable goods, so time was of the essence.
"I have called so many places and the best they could do is four weeks. Can you make a custom transformer and ship it out today?"
We told him it may be possible and took some basic information from him. Within fifteen minutes, we had a new design and called him with a same day delivery price. He immediately placed an order and it was quickly launched to the production floor. Since we were able to design these transformers using raw materials that we had in stock, production was able to begin right away.
The transformers were wound, stacked, finished, varnished, labeled and tested all by 3:00 PM. Because it would take too long for a courier to arrive, one of our staff drove the finished transformers to the Philadelphia Airport and tendered them to a Delta Dash small package representative. They were put on the next space available flight out to Texas.
One there, a representative from a helicopter company located on the same facility as the airport picked them up. They were placed on a helicopter and flown immediately out to the stranded cargo ship. Once onboard the cargo ship, they were quickly placed into service.
The next morning the telephone rang once again. This time the voice on the other end sounded well rested and happy. It was the same support technician calling to thank us for the quick response to their emergency situation. He told us that the transformers were installed late that evening and the ship was able to proceed to port without incident.
Not only did we help them when no-one else was able to, we also gained a customer for life.
At Magnetics & Controls, Inc. we understand what an emergency is and we try to respond to meet our customer's needs. Obviously there are times when same day service is not an option based on the design, but in most cases we can deliver a custom transformer within days not weeks.