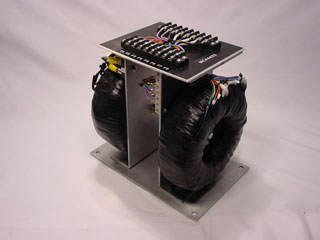 Amplistats & Magnetic Amplifiers




APPLICATION

- Mag Amp is the Westinghouse name and Amplistat is the General Electric name for a special Magnetic Amplifier, a device using self-saturating reactors, either alone or in combination with other circuit elements, to provide amplification and/or control. However, an ordinary Saturable Reactor without feedback has limited power amplification and response time since the load ampere turns of the output winding must be balanced by an equal number of ampere turns in the DC control winding. This limitation does not exist with a Magnetic Amplifier. Magnetic Amplifiers in general provide a simple, economical and reliable method for amplification of a signal to operate control equipment.



AMPLIFY SIGNALS

- Magnetic Amplifiers amplify signals from a broad range of source impedances. Proper matching of source impedances is simplified by the ease with which control winding turns can be selected.



ECONOMICAL OPERATION

- Magnetic Amplifiers use very little power because they operate as a variable reactance rather than as a resistance device. In most cases, they require no special power supply. Once on line, adjustments normally are not required.



ELECTRICAL SIGNAL ISOLATION

- It is common to provide several isolated signal windings on control circuits. This allows several signal to be combined in a single amplifier without incurring circuit complications. Amplistats are versatile and have been used in a variety of circuits.



FULL LINE SELECTION

- Magnetics & Controls, Inc. manufactures the broadest line of Magnetic Amplifiers and Saturable Reactors available from any single source. This includes both obsolete components once offered but no longer stocked by original equipment manufacturers such as General Electric and Westinghouse, as well as completely new designs. Whenever the job calls for Magnetic Amplifiers or Saturable Reactors, Magnetics & Controls, Inc. can prove to be a valuable source for all your electromagnetic needs. All units are 100% tested during all phases of manufacture and are guaranteed to meet or exceed the original OEM design and performance specifications.



NEW OR OBSOLETE

- Magnetics & Controls, Inc. has a library of over 10,000 drawings and specifications, including Magnetics Amplifiers, Saturable Reactors and many other custom electromagnetic devices to meet all of your needs. When completely new components are needed, Magnetics & Controls, Inc. has an engineering group that can take your concept from design to final production in record time.



PRODUCTION

- Production of larger quantities can be manufactured in as little as three to six weeks after the initial order is received. Smaller quantities can be turned around in just 72 hours if premium expedited delivery is specified. That's the reason you will find some of the largest fortune 500 companies on our customer list. Big or small, every customer of Magnetics & Controls, Inc. receives prompt, personalized service.